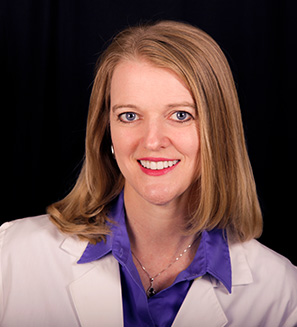 Kathy S. Sanders, DMD, AAACD
"I am truly blessed to be a dentist, and am inspired daily to provide my patients with the healthy, beautiful smiles they deserve. I love that my patients are also my neighbors and friends, and I always provide the highest quality of services possible for them. I care about each person who comes to see me, and am humbled by the fact that they put so much trust in me. I want to ensure that they maintain their oral health for a lifetime!" — Dr. Sanders
Dr. Sanders is the only Accredited Fellow (granted in 2018) and one of only nine dentists in the state of Tennessee to earn accreditation (granted in 2006) with the American Academy of Cosmetic Dentistry (AACD) worldwide. The designer of award-winning smiles, Dr. Sanders is an award winner herself, having garnered silver and bronze awards in the AACD's internationally acclaimed Annual Smile Gallery Competition of the leading cosmetic dentists.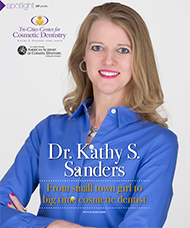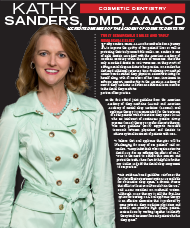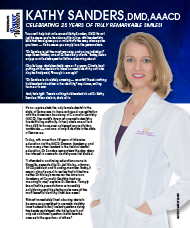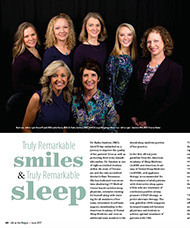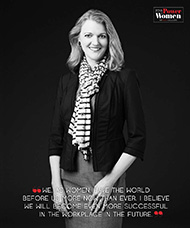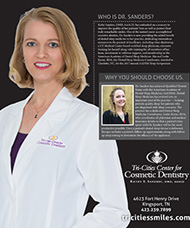 Click the images above to read Dr. Sanders' VIP profiles
Dr. Sanders is a native of Savannah, Georgia, and a graduate of Georgia Southern University Statesboro. She received her Doctorate of Dental Medicine from the Medical College of Georgia in Augusta.
Her dedication to the continual refinement of her cosmetic dentistry skills has inspired her to pursue extensive continuing education and advanced practicum experience presented by some of the world's most talented cosmetic dentists (1998 PAC-Live graduate, Anterior Aesthetics Program, University of the Pacific, San Francisco, Calif.; hands-on training with Dr. Frank Spear, The Seattle Institute for Advanced Dental Education, Facially Generated Treatment Planning-February 2004, Occlusion in Clinical Practice-August 2004, Advanced Occlusion in Clinical Practice-Oct. 2005; Peer Practicum Implant Studies, Implant Dentistry; 2009 Seattle Institute for Advanced Dental Education with Dr. Frank Spear; 2011 Carlsbad, CA Zimmer Institute) Member of the Dawson Academy, and a Qualified Dentist with the American Academy of Dental Sleep Medicine 2018.
Due to Dr. Sanders's continuing education fervor, she has been recognized every year since 1999 by the Tennessee Dental Association ACE Certificate of Recognition program for completing more than 80 hours of continuing education in a two-year period (1999-2000, 2001-2002, 2003-2004, 2005-2006, 2007-2008; 2009-2010, 2011-2012, 2013-2014, 2015-2016, 2016-2018, 2019-2020).
Practicing in the Tri-Cities since 1991, Dr. Sanders is a member of the AACD, the Tennessee Academy of Cosmetic Dentistry, and the American Dental Association (Tennessee Dental Society, First District Dental Society). She is also a recipient of the Business Journal's "Forty under 40" recognition.
Dr. Sanders also works with a local shelter for domestic violence victims. She participates with the Tennessee Chapter of the AACD in the Give Back a Smile program—a coordinated effort designed to provide cosmetic dental care to victims of domestic violence. In 2015, Dr. Sanders was awarded the Milligan College Leaders in Christian Service award.
Dr. Sanders and her husband Brian most enjoy spending time together with their two adult children, Erika and Michael. She also enjoys reading, snorkeling, and traveling in her spare time.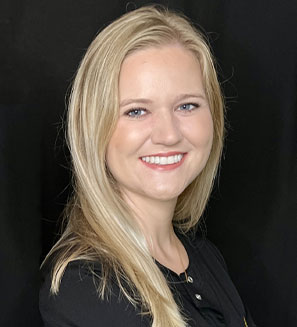 Erika S. Lovett, DMD
A native of Kingsport, Tennessee, Dr. Erika Sanders Lovett was born and raised in the Tri-Cities. After graduating from Sullivan South High School (now West Ridge High School), she went on to receive a Bachelor of Science in biological sciences with a minor in entrepreneurship from the University of Tennessee, Knoxville, in 2017. Immediately following graduation, she worked at the Tri-Cities Center for Cosmetic Dentistry as a dental assistant. This experience gave her the opportunity to observe her mother, Dr. Kathy Sanders, work on multiple complex dentistry cases. Seeing the difference her mother's work made in the lives of patients reinforced Dr. Lovett's desire to follow the same professional path.
"I saw firsthand how, through her care and skill, she was able to alleviate pain, restore what's broken, and help patietns acheive and maintain a healthy, beautiful smile -- and knew I wanted to do the very same," says Dr. Lovett.
With that guiding desire, Dr. Lovett completed her Doctor of Dental Medicine in May 2022 at the Dental College of Georgia, Augusta -- the very same dental school her mother had graduated from three decades prior.
Dr. Lovett and her husband, Pierce, were recently married, and the couple is enjoying their new life together in the mountains of Northeast Tennessee.
Kingsport dental practice becomes home to region's first mother-daughter dental team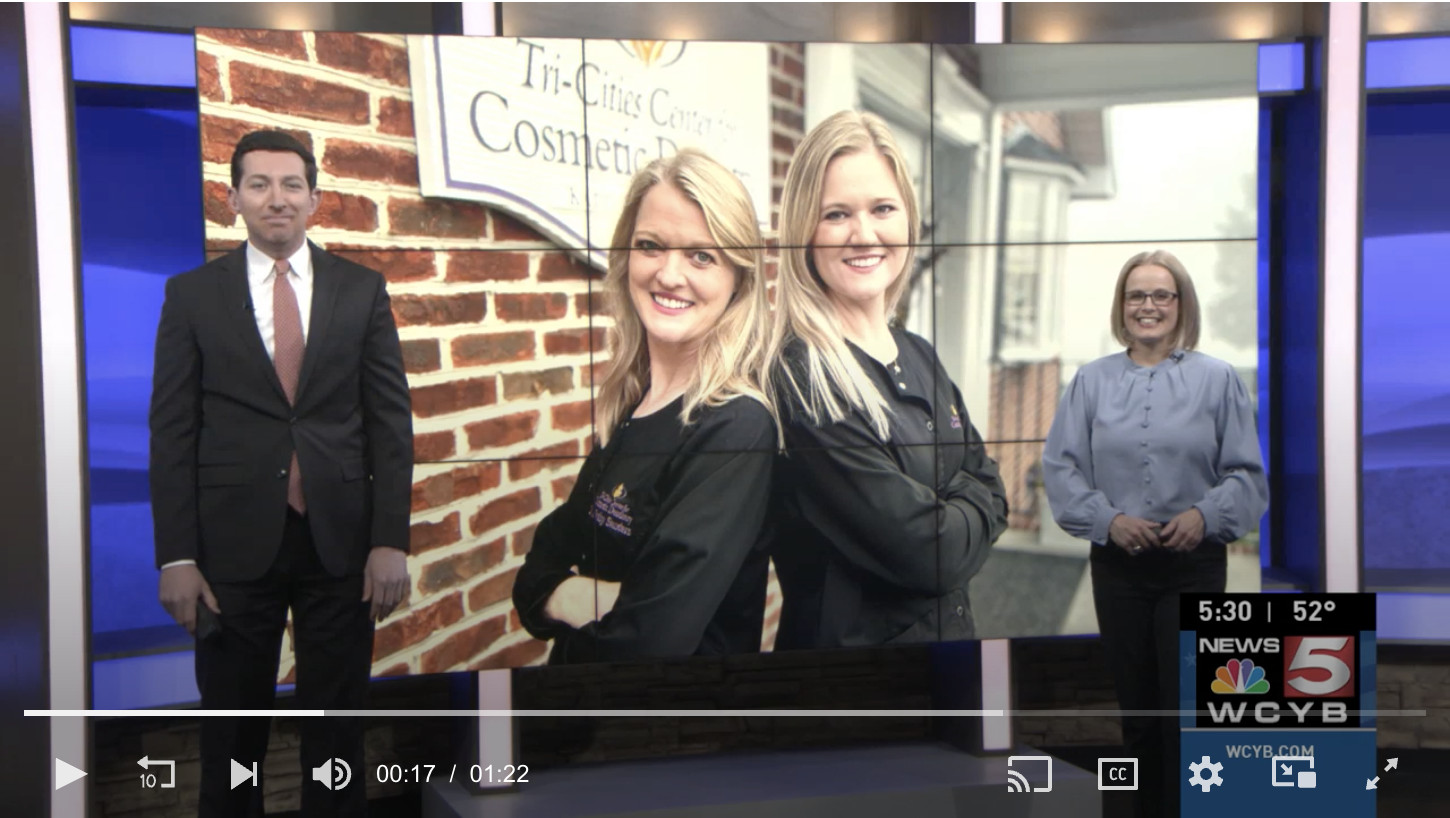 "I love to call East Tennessee my home, and Pierce was eager to enjoy the beautiful scenery here," she says. The couple enjoys hiking and trying out local restaurants with friends."
Dr. Lovett looks forward to greeting new patients interested in general dentistry. And, she's eager to learn from her mom as she begins to tackle new techniques and pursues advanced continuing education. The addition of Dr. Lovett to the Tri-Cities Center for Cosmetic Dentistry practice will allow patients to begin their treatment plans more quickly.